Aftershock distribution and the fault of the mainshock.
Nobuo Hurukawa, 2003/07/17
The mainshock and 5 immediate aftershocks were relocated by the MJHD method. A length of aftershock area is about 150 km of which strike is NNE. The mainshock occurred at the SSW edge of the aftershock area. These results are consistent with results by Drs. Hara and Yagi.
Note: Absolute locations, especially focal depths, are unreliable because of few nearer stations and the small number of events.
Data: Recent Worldwide Earthquake Activity by the US Geological Survey (http://neic.usgs.gov/neis/bulletin/)
Method: Modified Joint Hypocenter Determination (MJHD) by Hurukawa
<![if !vml]>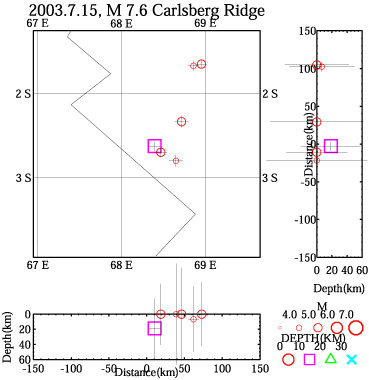 <![endif]>
Fig. 1. Hypocenters relocated by the MJHD method.
<![if !vml]>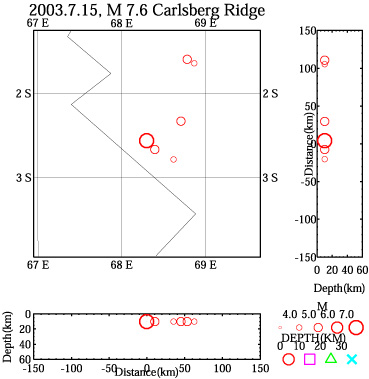 <![endif]>
Fig.2 Hypocenters located by USGS.
<![if !vml]>
<![endif]>
Fig. 3. Eighteen stations used in relocation. An asterisk indicate the epicenter.